Prefinished Siding and Custom Color Siding Sioux Falls from Sprenger Midwest. Our siding features durability and beauty. LP® SmartSide® Trim & Siding products let you redefine traditional building materials with treated engineered wood products that are designed to offer game-changing durability, beauty and workability. For more information about LP SmartSide and LP siding in South Dakota, click here.
Smart Shield is the combination of SmartSide® premium engineered siding from Louisiana Pacific, with a premium 30-year factory finish coating from Midwest Factory Finishes. Smart Shield is the culmination of years of experience and expertise in exterior cladding and coatings systems.
18 Stocked Colors + Black (Trim Only) from Smart Shield Prefinished Line
SOLID COLOR PROFESSIONAL FINISH (Also available in white)
Click to images below to view the LP SmartSide Product Photo Gallery Below:
EARTH TONES
*IMPORTANT NOTE: The color chips shown on this card are a graphic representation and may vary slightly in color, sheen or finish from actual product and individual results.
More About Smart Shield Siding from Sprenger Midwest
We distribute featured products to the Midwest. Learn more about Smart Shield from Sprenger Midwest, our Prefinished Siding line. Smart Shield Prefinished Siding combines the strength of LP siding (LP SmartSide) and offers custom siding colors Sioux Falls.
We also feature a line of dimension and timbers. Secondly, Ply Gem Stone, is also stocked by Sprenger Midwest. Ply Gem Stone includes the mortarless Durata Stone line. Perfect for the DIY homeowners. Century Aluminum Railing systems are also in stock and available from Sprenger Midwest.
Sprenger Midwest operates in and can supply custom siding colors Sioux Falls, North Dakota, South Dakota, Iowa, Minnesota, Nebraska and Kansas and supplies a variety of lumber needs to our new and existing customers. For more information about working with Sprenger Midwest, click here to contact us.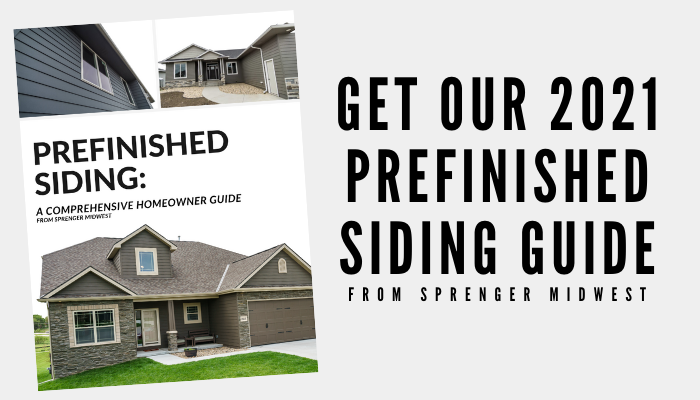 Also, click view our products in action on our social media channels: Pinterest and Facebook.
Sprenger Midwest supplies to retailers for siding in South Dakota. Therefore, please use our 'Find a Location' feature on our website to locate a retailer near you for Prefinished Siding, custom siding colors in South Dakota.
| | | |
| --- | --- | --- |
| KSS | | 7/8″ STARTER STRIP |
| KDC | | KLAUER 1-1/4″ DRIP CAP 10′ |
| KWDC | | KLAUER 1-1/16′ WINDOW DRIP CAP 10′ |
| KZFL38 | | KLAUER 3/8″x10′ Z-FLASHING |
| KZFL716 | | KLAUER 7/16″x10′ Z-FLASHING |
| KJC06 | | 6-3/8″ KLAUER SIDING JOINT COVERS |
| KJC | | KLAUER SIDING JOINT COVERS |
| ISC12PR | | 12′ WRC PRMD ROUGH INSIDE CORNER |
| KIC12 | | KLAUER 12′ INSIDE CORNER 1-1/8″ |
| KJC12 | | KLAUER 2900 12′ J CHANNEL |
| KBFL | | KLAUER BRICK FLASHING 10′ |
| KOC | | KLAUER OUTSIDE CORNER CAP 10′ (KOC) and NOT-PAINTED' KLAUER 3/4″ OSC BASE 10′ (KOCB) |
| KKOFLGY | | LEFT KLAUER KICK-OUT FLASHING |
| KKOFRGY | | RIGHT KLAUER KICK-OUT FLASHING |
| MMSQM | | SQUARE MOUNT (paintable) |
| MMHV | | 4″ HOODED VENT (paintable) |
| MMHRM | | HORIZONTAL RECESSED MOUNT (paintable) |
| SMTCORN10 | | 10'LP PRMD OS TEXT SMART CORNER |
| SMTCORN12 | | 12'LP PRMD OS TEXT SMART CORNER |
| SMTCORN16 | | 16'LP PRMD OS TEXT SMART CORNER |
| SMTCORN20 | | 20'LP PRMD OS TEXT SMART CORNER |
| SMTCORN12-6 | | 6″x12′ LP PRMD OS TEXT SMART CORNER |
| SMTCORN20-6 | | 6″- 20′ LP PRMD OS TEXT SMART CORNER |
| | | |
| --- | --- | --- |
| CAULK | | N/S OSI – QUAD COLOR CAULK |
| CUALKK000 | | OSI #000 CAULK (CLEAR) |
| CAULK001 | | OSI #001 CAULK (WHITE – NOT KLR WHITE) |
| CAULK004 | | OSI #004 CAULK (MATCH KLAUER WHITE) |
| CAULK201 | | OSI#201 CUALK MATCH 'BARK' |
| CAULK212 | | OSI #212 CAULK (MAPLE/MAHOGANY) |
| CAULK219 | | OSI #219 CAULK (DB "SPANISH MOSS") |
| CAULK239 | | OSI #239 CAULK (DB "CANYON") |
| CAULK260 | | OSI #260 CAULK "SABLE" STAIN |
| CAULK265 | | OSI #265 CAULK (DB "SEAL") |
| CAULK267 | | OSI #267 CAULK (DB "BRONZE") |
| CAULK268 | | OSI #268 CAULK (NEW) "YELLOW PINE" |
| CAULK288 | | OSI #288 CAULK CHESTNUT STAIN |
| CAULK299 | | OSI #299 QUAD COLOR CAULK (HAZELNUT) |
| CAULK333 | | OSI #333 CAULK (JEFFERSON TAN) |
| CAULK403 | | OSI #403 CAULK (DB "CAPE CODE GRAY") |
| CAULK421 | | OSI #421 CAULK (DB "EIFFEL TOWER") |
| CAULK438 | | OSI #438 CAULK (DB "OYSTER SHELL") |
| CAULK456 | | OSI #456 CAULK (KHAKI BROWN/ACORN) |
| CAULK483 | | OSI #483 CAULK (OLD) YELLOW PINE |
| CAULK501 | | OSI #501 CAULK (PEWTER) |
| CAULK522 | | OSI #522 CAULK |
| CAULK556 | | OSI #556 CAULK (DARK SLATE) |
| CAULK595 | | OSI #595 CAULK (DB "PELICAN") |
| CAULK901 | | OSI #901 CAULK (DB "CINNABAR") |
| CAULK907 | | OSI#907 REDWOOD PAINT, SQUOIA/TEAK STAIN |
| CAULK 945 | | OSI #945 CAULK |
| CAULKSIKA | | SIKAFLEX – 15 LM CONS SEALANT LIMESTONE |