Home »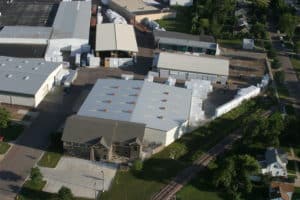 SPRENGER MIDWEST, INC. was formed in 1979 for wholesale distribution of lumber, prefinished siding, plywood, and other forest products to the retail lumber dealers and industrial accounts of the upper Midwest. Since then our business has grown because of our excellent mill sources, product lines (such as our prefinished siding) and our solid, personal sales approach with emphasis on customer satisfaction.
Since 1979, we strive to supply our customers with best quality products from our lumber to prefinished siding line.
Our Mission
We at SPRENGER MIDWEST are committed to servicing our customers to THEIR satisfaction and providing them with the highest quality renewable forest products available. Using our GOD-given talents, teamwork and professionalism, we will partner with our customers for THEIR success, because…YOUR SUCCESS IS OUR SUCCESS!
Contact Sprenger Midwest for quotes, information and more. Our Smart Shield prefinished siding line is available for distribution in Sioux Falls and Lincoln, NE locations.
For more information about our prefinished siding line visit LP.
Our Locations
Sioux Falls, SD (523 West 14th Street, Sioux Falls, SD)
Sioux Falls North Location (4501 N. 4th Ave, Sioux Falls, SD)
Lincoln, NE Location