Deck Railing Styles From Century Aluminum Railings: Spotlight
Thinking of a deck remodel but not sure where to start? Check out our helpful gallery featuring top trends and colors from Century Aluminum Railings systems. Designed with the DIY'er in mind, installation of the decks railings is made simple.
It's easy to add durable, long lasting beauty to your home. Safety made simple with Century Aluminum Railings systems, too.
Find the right style of deck railings to fit your project or build. From lake homes, pools and decks – Century Aluminum Railings will transform your outdoor living space in to beautiful view!
See why Century Aluminum Railings is ideal for your spring deck project!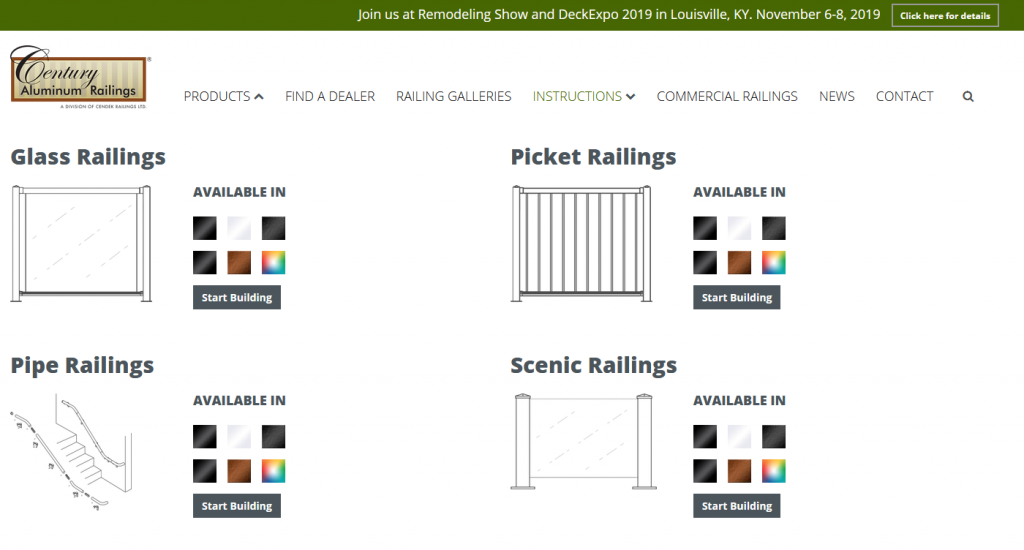 1. Scenic Railings
When your view is your primary selling feature then scenic railings is your best bet.
Scenic deck railings is a railing type that allows both the home or business owner to appreciate their beautiful scenic view while having a fully functional and reliable railing system. The key identifier of this product is that it doesn't have a framed in top or bottom.
This feature makes scenic railings sleek and elegant. With railings, safety is always a priority and with scenic railings, there is no worry for the safety of your family, guests, and pets.
Scenic deck railings are ideal for smaller to much larger spaces such as cottage decks, lakeside restaurant patios, and commercial properties

2. Picket Railings
Aluminum picket deck railings are much superior when compared to wrought iron. The benefits of using aluminum picket railing for your fencing is that it is more durable and a much stronger alternative.
This railing type offers safety for the customer along with the style that suits their needs. It is cost effective as well and is the staple for many deck projects due to its long lifespan.
Century's component picket railings were designed with both the do-it-yourself homeowner and contractor in mind. The easy to install system will allow you to enjoy your deck or get on to the next job site quicker.
In all DIY installation, local building code officials should be checked.  Picket Railings at Century are available in 42 inch or 36 tall systems, in both narrow and wide pickets in all three standard colors.
A continuous bottom rail design and hidden welds add a top of the line aesthetic to this product.

3.  Glass Railings
Glass deck railings are a beautiful option when wanting to add elegance to any property.
Around the pool area or rooftop, a clear view becomes a matter of safety and importance. Since they feature a frame and top rail, these railing systems are also great for stairs and raised platforms, allowing guests to place their hands along the top rail for support or a sense of security.
First, glass railings are a very safe option for raised platforms.

4. Pipe Railing
Aluminum pipe deck railing systems are versatile.
They allow you to design from the start or add on after the fact. The pipe can fit any design with a custom cut.
This ingenious product is extremely adaptable. Finally, Pipe railings can be used for residential and industrial projects for various types of projects such as staircases, water-rich environments, hard to reach locations, pedestrian barriers, handicap ramps, and gates to name a few.

For more information on where to purchase Century Aluminum Railings near you, click here!