Manufacturer Spotlight: Tom's Quality Millwork
Tom's Quality Millwork, located in Ashford, Wisconsin, is family-owned and operated. In 1978 Tom Fleischman decided to open his own part-time business out of a small workshop in the back of his home.
By 1985, Tom needed to construct a warehouse across the street, and in 1986 he added his second manufacturing facility.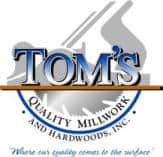 Today, Tom's Quality Millwork covers 230,000 sq. ft. of manufacturing space and proudly employs 120 people. In addition to the US, Tom's Quality Millwork is also proudly distributing products throughout the United States, Canada, and other various countries around the world.
The visions and values of the company remain the same today – on the premise that quality construction materials and principles should be the standard.
Also, giving a nod to service, Tom's believes that service after the sale has always been a part of our tradition and continues to this day.
For more information about Tom's Hardwood's, click here to contact Sprenger Midwest for pricing and availability.