Scott Knutson and Scott Lawyer of Sprenger Midwest Receive Achievement Awards
At the 2020 South Dakota Retail Lumberman's Convention held Feb. 12-13th in Sioux Falls, SD, Scott Knutson and Scott Lawyer received recognition for accomplishments in the lumber industry.
Scott Knutson, who celebrates 23 years of service at Sprenger Midwest this June, received two awards: Tri-State Association Distinguished Service Award and Salesperson of the Year.
"I've enjoyed working in the industry and having the opportunity to get to know my customers," says Scott Knutson. "It's been a honor to provide excellent service to my customers."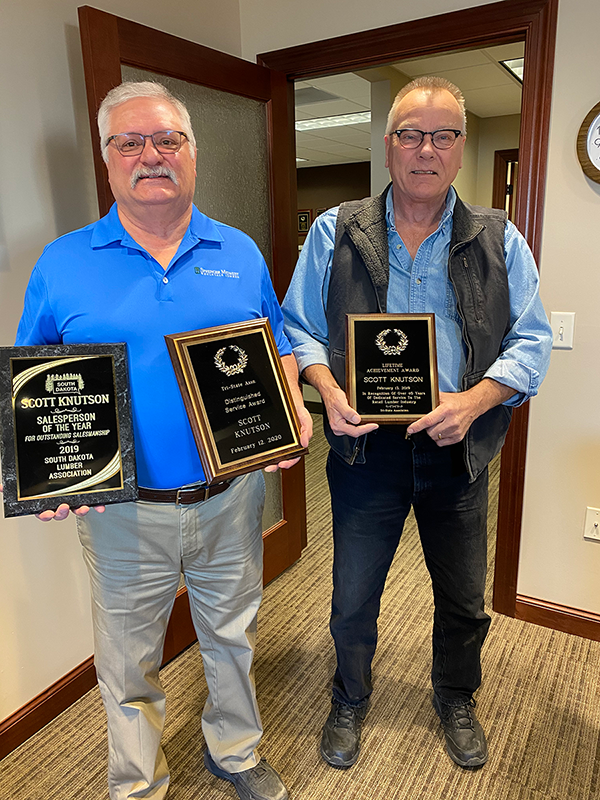 Scott Lawyer, who marks 25 years of service in 2020, received the lifetime achievement award in recognition of over 40 years of dedicated service to the retail lumber industry. 
"Since I've started at Sprenger Midwest, there's been a lot of changes," says Scott Lawyer.  "Not only in the industry, but for Sprenger, too. The company has grown and expanded! And it's been really awesome to be part of it!"
In 2019, Sprenger Midwest celebrated 40 years of business – and – in 2020, added a new distribution location in Moorhead, MN.
We keep growing and going," says Knutson. "The expansion into the Fargo/Moorhead market is proof of that growth. In the almost 25 years with Sprenger Midwest – I've enjoyed meeting the new challenges and seeing how far Sprenger Midwest has grown. It's been my honor to be part of the growth and success.
Scott Lawyer is a Senior Regional Account Manager (Outside Sales) and Scott Knutson is a Senior Account Manager for (Inside Sales).
Congratulations to Scott and Scott!