Scott Lawyer Celebrates 26 Years of Service at Sprenger Midwest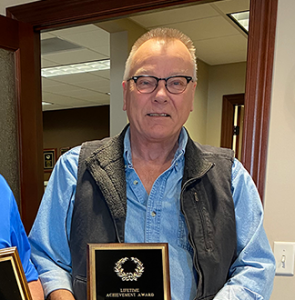 There's not much Scott Lawyer, Senior Regional Account Manager at Sprenger Midwest, hasn't seen. From the industry ups and downs, to the latest challenges with COVID-19, these challenges provide the landscape making up over 26 years of service, knowledge and dedication for Scott.
"Back when I started, we were in a different location entirely. Our main office was a small house converted into an office," says Scott. "It just floors me to look back. Now we've expanded to Moorhead, MN this year and we keep growing."
Scott takes great pride in providing excellent customer service and building relationship throughout his 26 years of service. He also says that seeing the industry change and grow has been fun to see and experience.
Building Relationships Within the Lumber Industry
"It's all about relationships, says Scott." Looking back upon his 26 years with Sprenger Midwest, he talks about how the industry's core remains similar, however, the distribution and sales format method keeps advancing.
"Now, we're able to have video meetings from our cell phones," notes Scott. "It's just wild to see the changes in technology, but at the core, we're still supplying excellent service and exceptional products. That format will never change."
We asked Scott what advise he would give a newbie to the industry. Scott simply responded saying "work hard, be polite and deliver what you promise."
—
Scott Lawyer has been with Sprenger Midwest since 1994 and currently a Senior Regional Account Manager.
He has received numerous awards such as the Lifetime Achievement Award in Recognition of Over 40 Years of Dedication in the Retail Lumber Industry, the 2006, 2007 and 2008 Specialty Products Outside Salesperson of the Year at Sprenger Midwest and the Gold Medal Grading Certificate from the Western Red Cedar Lumber Association.