Product Build Feature: Century Aluminum Railings – Commercial Build Project
Commercial Project
Style Used: Glass Railings, 3" Custom 45-Degree Posts and Custom Tinted Glass
Color: Textured Black
Location: Bridges Bay Resort in Arnolds Park, IA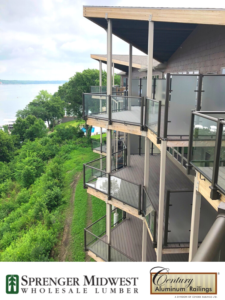 Located on one of the last large strips of available beachfront on the shore of East Lake Okoboji, Bridges Bay Resort saw the need for expansion in 2016.
This year-round resort features individually-owned condominiums and hotel-style guest rooms for short-term or long-term rental with beautiful outdoor patios and decks finished with Century Aluminum Railings.
"The views from the decks and patios are incredible," says Todd Kappenman, Senior Regional Accounts Manager at Sprenger Midwest. "The glass railings by Century Aluminum Railings were a perfect choice to use for unobstructed deck views all while meeting safety requirements."
In addition to the glass railings, textured black, 3" custom 45-degree posts and custom tinted glass were installed.
Conclusion
Please consider using Century Aluminum Railings on your next decking project! Sprenger Midwest is a proud supplier of Century Aluminum Railings to their retail locations throughout Minnesota, North Dakota, South Dakota, Nebraska, Iowa, Missouri and Kansas. For a list of Sprenger Midwest retailers, click here to find a retail location near you.
About Sprenger Midwest
Based in Sioux Falls, SD, Sprenger Midwest celebrates over 40 years in business supplying retail locations and the building materials that build dreams. For more information about Century Aluminum Railings from Sprenger Midwest, click here to visit the online products catalog.