5 Reasons to Consider a New Home Build in 2021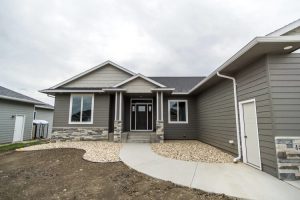 In 2021, the single-family home market is seeing an increase from 2020. With the low interest rates on mortgages, you may be asking yourself if now is the right time to build your dream home.
If you're considering a purchase, you're not alone. In fact, single-family home building in 2021 is up 4.6% from 2020 according to The National Association of Home Builders forecasts.
Building comes with many benefits, but determining if building a home in 2021 is right for you depends upon your goals and a few factors we recommend to consider. 
Start your build with our Free 2021 Prefinished Siding Guide [PDF] 
Pros of a New Home Building
In addition to the benefits of a new build (like choosing your floor plan, design and fixtures), 2021 brings new benefits and considerations like historically low interest rates and the need to work from home. If the timing is right for you to build, here are 5 additional items to take into consideration:
Build Your Forever Home Now – The supply of available homes has decreased due to demand. With low inventory in mind, this may fast track your decision to skip purchasing an existing home and jump right to building your forever home.
Purchase Land in 2021 Now and Build Later – Finding the perfect piece of land to 'land' on gives you an additional flexibility in the event that you're just not quite ready to build, but want to keep taking steps towards your dream home completion. 
Customized WFH Space – More jobs are shifting to the 'work from home' model for employees. Therefore, more professionals are craving office space focused upon creating functional, comfortable work space with natural light and no salt and pepper shakers. Designing a home with a customized office space is a great way to create comfortable and productive work areas.
More (or Less) Space – Upsizing or downsizing? Customizing allows you to accommodate for family growth or adjust for kids leaving the house.
Peace of Mind – New home construction usually means no major structural issues like outdated plumbing, electrical systems, HVAC and ect. Secondly, some homebuilders include a 1-year craftsmanship warranty for added peace of mind. 
In conclusion, if you're considering a 2021 home building project in the future, you're not alone, plus comes with many benefits and a lifetime of memories to build.