How Much is Composite Decking VS Wood?
If you're a homeowner looking to build an outdoor space with a deck, you may be asking the question: how much is composite decking VS wood?
Composite decking is a great option if you're looking to receive long-term benefits. The cost per square foot of a pressure treated pine deck sells for about half the price of composite. Below, we take a look at the average costs of composite verses wood specifically for deck builds.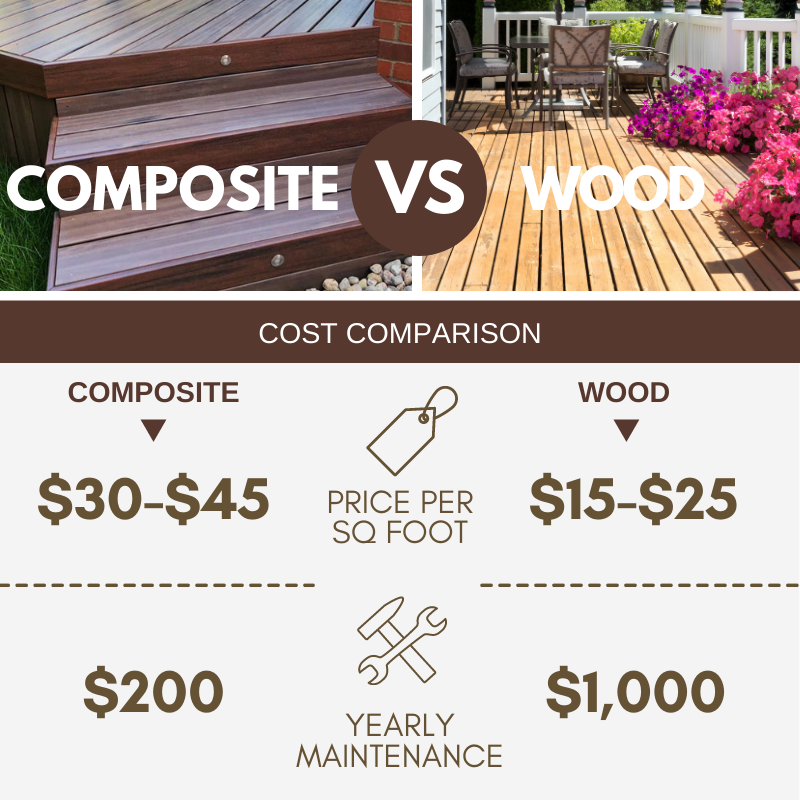 Cost VS Benefit 
On average, composite decking comes with a high upfront price, however, homeowners may benefit from the increased costs when weighing the benefits. One such benefit is the longevity of composite verses wood. Secondly, homeowners who rank low maintenance choose the benefit of composite decking to wood decking.   
When it comes to choosing the best type of deck for your outdoor living space, you may find yourself asking the big question: How Much is Composite Decking VS Wood? With a bit of research, requesting quotes and comparing contractors, you'll be confident in your deck decision. 
Ongoing Maintenance Cost Considerations
One major benefit of composite decking is the facts that it's low maintenance. Wood, on the other hand, requires yearly maintenance of staining, sanding and sealing if you want to keep the look of the wood fresh and splinter-free. 
Composite decking, in return, won't splinter and doesn't require repainting, re-sanding or resurfacing. For some, these reasons more than justify the cost of wood deck maintenance. Yearly maintenance, on average, can cost up to $700 (or $2 to $4 square foot for labor and materials) according to Home Advisor's 2021 article: Average Cost to Stain a Deck. 
Plus, if you live in an area which sees cold climate, your window for maintenance can be smaller due to unfavorable conditions. Staining a deck is recommended every 2-3 years, ongoing maintenance like cleaning, sealing and waterproofing add to the maintenance costs.  
Conclusion
While there's pros and cons to the cost of the decking material, choosing depends on your key goals. If you love the look of wood and have time and/or finances to invest in upkeep, then wood is the right material for you.
Alternatively, if you're looking for a deck that looks like wood, but no the ongoing maintenance of a wood deck, composite materials may fit the bill when creating your outdoor living oasis. 
Additional Reads