Composite Decking: An In-Depth Guide
From choosing the right decking for your build, composite decks are a solid choice when it comes to building an outdoor space your family will enjoy for years to come. Read our helpful guide as you journey through your outdoor living space builds, plus, receive a free download and printable from Sprenger Midwest Wholesale Lumber Distributor.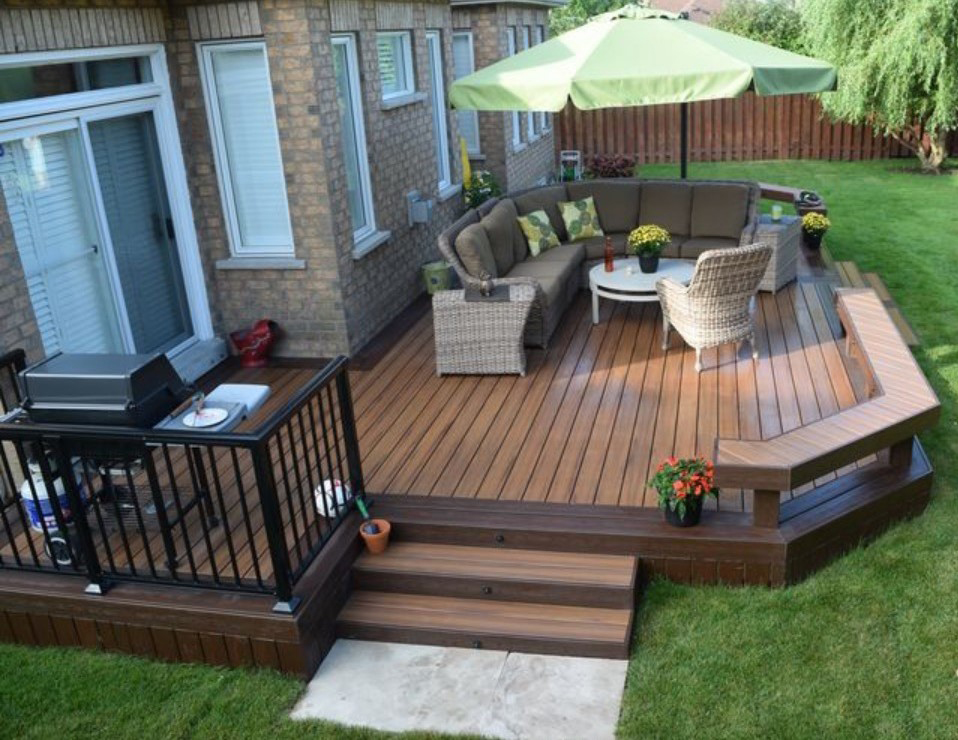 Introduction
When it comes to choosing the right composite decking for your home, many factors come into play. In order to help make your decision process run smoothly, we've created this helpful guide highlighting the benefits of composite decking.
Our guide features an all-encompassing rundown of composite decking for homeowners who are planning on hiring a contractor for the build or who are planning a DIY deck build.
Read below as we discuss all aspects of composite decking:
What is Composite Decking
The History of Composite Decking
The Pros and Cons of Composite Decking
5 Examples of Composite Decking Jobs
DIY Tips and Tricks for Easy Installation
Resources for Composite Decking
Please bookmark this helpful resource as you work through your deck building process. Click here for a PDF printable version of this helpful guide as you journey on your composite deck build.
With no shortage of options, you may find yourself surrounded by multiple choices of materials. One material you should consider for your build is composite decking, here's why:
Longer Lifespan Versus Wood Decks
Immediate Finish – No Need to Stain, Paint or Sand
Better Investment Long Term
Excellent Resale Value
First, let's discuss what composite decking is.
What is Composite Decking?
Composite deck boards are the combination of plastic film and wood fibers. The film, which is placed on top as a sealant, is usually made of polypropylene or polyethylene. The combination of the plastics and wood fibers creates a strong, tough bond which makes this material a more stable decking option.

Until about 1990, wood decks, like cedar, were the standard for homeowner deck builds, however, new technology advanced composite decking making it a contender for homeowners because it featured the durability and real look of wood, but with better water resistance and less maintenance.
[Related Post: What is Capped Composite Decking]
History
Pressure treated wood remained the main choice for residential decking until around the mid-1990's when composite decking was introduced into the building market.
The first composite deck boards were made by blending plastics and wood fibers to create a water-resistant composite decking. This formation of composite provided the benefit of significantly less maintenance and upkeep, all while providing the look of wood.

With any new product, it needed a few years to work out the kinks.
Early challenges of the material included fastening and installation issues. Due to the material used to build the composite decking, traditional deck screws could not be used.
Manufacturers quickly developed a solution and introduced the multi-diameter decking screw to solve this issue. These decking screws (such as Turbo Clips) allowed the screw to seal properly which produced a clean and level surface that regular screws could not produce.
As composite decking overcame growing pains and issues, it quickly grew in popularity. This led to a surge and in 2006, 25% of decks installed were being built with composite decking materials.

The Pros and Cons of Composite Decking
When choosing composite deck boards or wood for your decking project, many factors come into play. Questions to ask yourself include how long you'd like the deck to last to what type of texture you'd like to have.

Below are helpful pros and cons to consider when choosing if composite decking is right for your decking project.
Pros
Lifespan
A huge benefit of composite decking is that it's made from materials which can withstand the most severe weather conditions for years without any major upkeep or treatment.
Durability
Made from strong, sustainable materials, composite decks do not weather, fade or crack unlike standard, pressure treated wood decks.
Color
When building your outdoor living space, homeowners have a wider variety of color options and textures to choose from with composite decking. Multiple color tones can even be used to create patterns to achieve a truly custom outdoor living space.
Functionality
No matter what you'd like your outdoor living space to be, composite decking can help you achieve it. Composite decking is user-friendly if you'd like to include accessories and aluminum railings.
Railing options for homeowners include multi-color pipe railings, handrails for stairs, tempered glass system or picket style railings. One option we recommend railing kits is Century Aluminum Railings.
Warranty
Composite decking brands tend to have a long warranty due to the trusted lifespan of the product, but no matter what decking you're considering, make sure to review each warranties based on your needs.
Armadillo Decking, for example, features a limited lifetime warranty for Residential applications and a 10-Year Limited Warranty for Commercial applications.
Related Post: [Which Composite Decking is Right For You]
Cons
Cost Can Be Higher Than Standard Treated Lumber
Price can be between 50 to 100 cents more for composite deck boards versus standard treated lumber depending upon where you live and want to build. While we can argue that this is worth the cost in the long-run, the initial upfront cost will be generally higher than standard treated lumber.
Composite Deck Boards Feature Permanent Color
Composite decking is permanently colored for longevity with no need for ongoing maintenance for the product. For more homeowners, this is a huge bonus.
Standard wood needs to be repainted and can require tons of additional maintenance. If you're not one who enjoys restaining, re-sanding and repainting every year, then composite decking is your clear winner.
Dings and Dents Could Require Full Board Replacements
While infrequently occurring, dings, dents and chips can damage the deck boards. If this happens, a filler and touch up paint can create a 'patch', however, in the event of a large chip, dent or ding, it may be favorable to replace the board to maintain a consistent appearance.
Some Brands Do Not Reflect the Look of Wood
Long time con for composite decking is that composite boards look fake. While this was a concern back when composite decking first made it to the market, upgrades and updates to the design have been so impressive, homeowners list it's one of the best features of composite decking.
Now more than ever, brands have done a great job of creating wood-like designs for their boards and homeowners have taken notice which led to the surge in popularity.
Friendly note – not all brands are created equal so make sure you request a composite sample large enough to see the design grain before purchasing.
Boards Can Become Hot to the Touch in Some Climates
Live in an area which receives lots of heat and sunlight? Then, you'll want to consider all your options before choosing your deck material.
Heat absorption in areas of high sun and heat may make the decking uncomfortable to the touch. While this issue can potentially be solved with choosing the right composite texture and lighter color, it's worth considering when it comes to your climate.
10 Start-to-Finish Tips For a Smooth Composite Deck Build
Planning is your best friend when it comes to home projects. Starting smart can help eliminate product waste, save time and reduce stress.
Below are 10 start-to-finish, helpful tips we recommend to help your new build on time and budget:
Plan Out Your Timeline
Depending upon the climate of your area, you may be limited to build seasons. Luckily, you can get the details planned out ahead of time so you'll be ready to roll with the weather is favorable
Start Your Research Process
Bringing your dream deck to life takes planning. From creating composite decking idea pins on Pinterest to requesting samples and literature from your local retailer, starting your research process as soon as possible helps you smooth sail to a successful build.
DIY or Hire a Contractor
If you're doing a DIY build – there are plenty of resources available to help your build. For example, Armadillo Decks has a fantastic installation reference area on their website to reference guides for both DIY and PRO.
Considering a contractor? Ask for recommendations from friends, family, coworkers and/or neighbors or trusted service sites such as Angie's List.
It's likely that your retail store where you're purchasing the composite decking materials will have a network of installers, so we advise checking with your retailer for installer references.
Related Post: [How Much is Composite Decking VS Wood]
Deck Placement and Type
The purpose of your deck will help determine access points and where to place them in proximity to your home.
For example, if your plan is to use your deck as an extension of your living room or for easy hosting, placement near your kitchen or living room is recommended.
Want a relaxing retreat or oasis? Consider a detached placement away from your home to create designed space with minimal interruptions.
There are many great ideas found on Pinterest to help you maximize ideas on utilizing your space around your home! Composite lattice trellis can also create visual separation and privacy as well as adding beauty to your outdoor oasis!

5. Determining Your Deck Size
The size of your deck will depend upon your use for your deck, the size of your home and your budget. The average deck size is between 300 and 400 square feet. A good rule of thumb for deck builds is that it should be wider than it is deep with the wider deck area parallel to your house. Making sure your deck is proportionate with your home to ensure design balance.
6. Finishes: Railings, Stairs and/or Privacy Fence Items
Choosing the materials and style to finish your deck project is the icing on the cake! From drink rails, to aluminum railings with glass or composite lattice privacy fence additions, don't forget these details when you're constructing your deck build plan.
7. Schedule Your Build or DIY Date
Depending upon your contractors recommendations for the time of year build, your project can either begin or be scheduled around favorable weather conditions. If you're doing a DIY project, please consult the product recommendations prior to build.
8. Lighting Accessories
Looking for extra ooo's and aahh's for your deck project? Consider deck lighting accessories! There are three types of main deck lights to choose from: stair risers, railing post, and railing cap lighting. Inspiration can be found from Pinterest or from contractor recommendations.
9. Finishing Touches
Final items to include are fascia and stair risers (the boards behind each step). Most decks use fascia to cover the side of stairs and risers to close the hole on the back side of the ground step.
Stair risers can be the same color to match your decking or offset the design with a complimentary color.
10. Enjoy Your Completed Composite Deck!
Resources for Composite Decking
Conclusion
When it comes to choosing the right type of decking for your home, many factors can come into play. We hope that our helpful composite decking guide provided you with insight, information and inspiration you've been looking for to help with your deck build or renovation.
Related Post: [Armadillo Decking Before/After Project Featuring Campfire]
Please bookmark this helpful resource as you work through your building process or click here to access a printable version of our helpful guide.